The History of Ditchburn of Lytham St Anne's
1945 How It All Started
Jack Hylton, Band Leader.

1946 The Hawtin's Novelty Company
Producing the first Music Maker Jukebox.

1947 - 1948 Ditchburn Takes Control
Hawtin's sells Music Maker to Geoffrey Norman Ditchburn.

1952 -1954 The Freckleton St, Factory at Lytham
Coming soon

1955 The Ditchburn Organisation.
The Import, and distribution years plus other adventures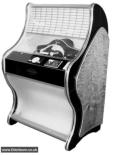 Click on the images below to visit each page

Ditchburn in Print
Newspaper Cuttings, Photos, and other Documents

1960 Domino Records
The Ditchburn Recording Studio and Record Label By Arthur Phillips

The Alternative History of Ditchburn
Don't always believe what you read in the newspapers

Ditchburn Downloads Area
Sales Brochures and other Ditchburn Documents
All to Download and print in PDF format.

Where in the World was Ditchburn
The Timeline History of the factories and depots of Ditchburn

1948 - 1952 Ditchburn opens an office in Liverpool
A sales office for the Ditchburn Company

1954 The Old Laundry, Dock Road at Lytham
The new HQ for Ditchburn

1959 The Ditchburn Empire Grows
Ditchburn Conference at the Savoy Hotel Blackpool
1957 Ditchburn Visits America
Ditchburn becomes the largest operator of Juke boxes in the world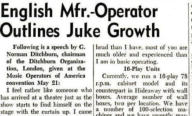 1963 The Empire Expands
A New Factory for Ditchburn